Description
The smoothest transition from the truck bed to the loading dock

AIRDOCK® model ADF Air-Powered FLEX-LIP® dock leveler features NEXT GENERATION AIR™ technology with the patented PROTECTED SINGLE CHAMBER™ balanced bag design and PULL-ACTION™ lift system that does not push on the underside of the deck or pit floor.
Patented Proven Technology
The patented FLEX-LIP® lip design extends automatically as the leveler deck descends and maintains the lip horizontally in all positions of the platform, even in below dock loading operations.
The risk of grounding low clearance pallet trucks and forklifts while loading and unloading is significantly reduced and excessive forklift tire wear, especially in below dock loading operations, is minimized. Personnel injury, caused by whole body vibration, is also significantly reduced, saving on injury claims and employee absence.
When the lip angle is too great, it can result in low clearance vehicles, such as electric pallet trucks impacting the lip or the trailer bed damaging equipment and impeding loading operations.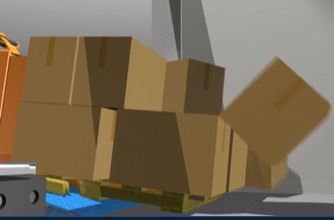 Low clearance pallet trucks can impact the crown angle, especially in below dock loading operations, resulting in damage to fragile goods and increased wear and tear on the lift truck substantially reducing maintenance, product loss costs and leveler structural fatigue.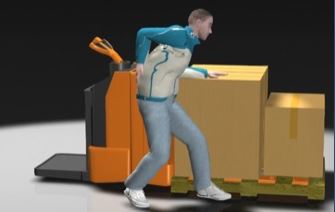 Personnel injury caused by whole body vibration is significantly reduced saving on injury claims and employee absence.
Simple. Safe. Easy. Push button power
When the button is pressed the platform rises to its highest position, releasing the button allows the deck to descend the lip to extend into place automatically until the lip rests on the truck floor.
The lip remains in its optimal horizontal position whether the truck is above or below the building floor height. When loading/unloading is completed, pushing the button again returns the platform and lip automatically to the stored position.
SHF Features:
Patented, Proven, FLEX-LIP
Patented Self-Cleaning Open Lug Front Hinge and Header Plate
Patent Pending AUTO-DESCENT LIP™ Extension
Heavy-Duty Lift and Lip Cylinders with Non-Adjustable Velocity Fuse
Easy Transfer Full Width Fixed Rear Hinge
Zinc Plated Front & Rear Hinge Rods
Easy Clean Frame
Security Night Locks
Additional Center Deck Support
Separate Deck and Lip Maintenance Supports
Deck & Lip Constructed from 55,000 PSI Tread Plate
Dual Side 33% Beam to Deck Front to Rear Weld Pattern
Beams and Lugs Continuously Welded to Header Plate
Velocity Fuse on Lift Cylinder
Full Range Telescoping Toe Guards
Superior Warranty
SHF Options & Accessories
Self Forming Pour in Pan
18" or 20" Long Lip
Safety Yellow Painted Toe Guards
Foam Insulated Deck
Spray Zinc Deck, Lip & Frame
Barrier Lip
FALL-STOP™ Safety Barrier Gates
Loading Dock Lights & Guide Lights
IMPACT™ Series Steel Spring & Steel Face Dock Bumpers (10-Year Structural Warranty)
LOGI-SMART® Integrated Control Systems
SMART-HOOK® & TRUCK-LOCK® Vehicle Restraints
Wheel Based & PIT-HOOK™ Vehicle Restraints
WEARTOUGH® Dock Seals & Shelters